Posted on 27 Apr 2021
At the beginning of April, Surviving Economic Abuse (SEA) became a national training partner of The Labyrinth Project, a new collaboration led by Solace Women's Aid.
The Labyrinth Project aims to foster stronger networks of support for women, including victims of domestic abuse, to increase capacity at women's centres and related organisations, and to enable shared learning.
At SEA, we recognise that the impacts of violence against women and girls reach far beyond immediate physical safety to include their economic safety. Even after separation, one in four victim-survivors face threats to their economic wellbeing, including housing instability, debt and legal issues.
We know that economic abuse can be difficult to identify, and not everyone experiencing it will have accessed or have sought to access domestic abuse services. It is a form of coercive control that is introduced slowly and could begin with behaviour that at first seems protective or caring, for example, offering to take care of all the finances or encouraging someone not to work so that they can look after the children. Over-spending or building up coerced debts may also not be obvious at first. Some women may have lived with economic abuse for years, and it can continue long after leaving a perpetrator. This is why it is vital to ensure that a wide variety of women's spaces have the training and capacity to recognise and respond to economic abuse and women's economic inequality.
Within the Labyrinth Project, SEA will train volunteers and professionals in women's centres, children's centres and older women's spaces on debt and financial capability. We will also work with local partners to provide a debt and financial support programme consisting of training, group work, digital resources, and other support.
We are also welcoming a new funding opportunity for women's groups.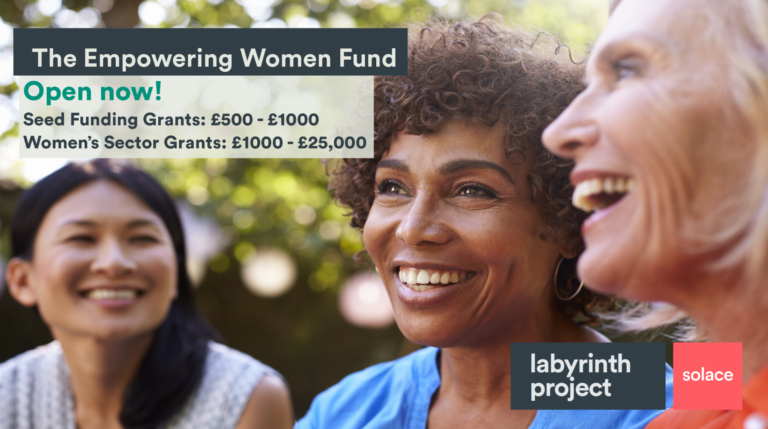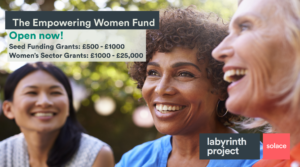 The Empowering Women Fund, part of the Labyrinth Project, is a Tampon Tax funded grant scheme led by Solace. The fund will support small women's groups to respond to the multiple issues affecting women's lives that have been intensified by the Covid-19 pandemic.
As we saw in SEA's Cost of Covid-19 report, the rules put in place to contain the spread of coronavirus had a disproportionately negative impact on women. Stay-at-home measures and economic uncertainty created a conducive context for domestic abuse, including economic control – preventing women from working at home and stopping child maintenance payments were just some of our concerns.
In light of these new challenges, this funding aims to address the need for women-centred services to build links and share knowledge, build their capacity for support, and develop innovative ways of empowering women in their local area.
The fund opened on April 12th, 2021, with grants from £500–£25,000 available across England, Northern Ireland and Scotland. The deadline for the first round of applications is Friday, May 28th, 2021.
Seed funding grants of £500–£1,000 are available to small women's groups to establish and run micro empowerment projects in their local area. These projects should support women to build their skills and confidence, as well as decrease social isolation.
Larger women's sector grants of £1,000–£25,000 are also available.
Learn more about the Empowering Women Fund and how to apply here or contact [email protected] to find out more.
Fiona Dwyer, CEO of Solace said: "Solace is delighted to be launching its first external grant scheme as part of the Labyrinth Project. Covid-19 is disproportionately affecting women, and the organisations that support them are doing everything they can to meet this extra need.
"The Empowering Women Fund will allow women's organisations to help women navigate the complex issues they face and ensure that we have a strong and vibrant women's sector in the future."
Dr Nicola Sharp-Jeffs, Founder & CEO of SEA said: "Surviving Economic Abuse (SEA) welcomes this grant scheme and the support it will provide to help sustain and develop sector groups that provide vital women-centred services."
About Solace
Solace is a leading specialist VAWG charity in the UK, with over 45 years' experience working with survivors of Violence Against Women and Girls (VAWG).